Introduction - Gary White - Texas A&M '72


I have been a licensed amateur radio operator since the age of 13. This web page provides a description of some of my current interests in both amateur radio and astronomy.
I enlisted in the USAF in 1960 and initially served as a Link Trainer Instructor and later a Weather Equipment Technician. In 1970 the Air Force sent me to Texas A&M under the Airman Education and Commissioning Program (AECP). After graduating with a BS in Meteorology and Officer Training School I served in my one and only assignment as a weather officer in the Global Weather Center at Offutt AFB, NE. There the Air Force decided to send me to Air Force Institute of Technology for a Master of Science in Electrical Engineering. After that I served in the Air Force space programs as a Program Manager and Mission Director until my retirement in 1982. Today I'm still supporting many aspects of the US space program, but as a civilian contractor.
Amateur Radio
Amateur or ham radio is my first and probably most enduring hobby. Over the years it has been a source of enjoyment. Both in the level of technology, but certainly the magic of using low power equipment to reach around the world and communicate with other 'hams'. My station is fairly modest by many standards, yet it serves my interests quite well. While I have operated many of the different modes, such as AM, SSB, RTTY, SSTV, and most recently the digital modes such as PSK and Digital SSTV, my all time favorite mode is CW or Morse code.
Astronomy
A dream of most astronomy observers is to have a permanent facility with a ready-to-go telescope. Several years ago my own dream of this capability was fulfilled when my wife and I constructed an observatory/ham shack in our back yard. In some later web pages the observatory is described in more detail, but the best thing is it allows me to turn on my telescope and within 5 or 10 minutes begin observing. Most of my astronomy endeavors are visual, but occasionally I dabble in astrophotography.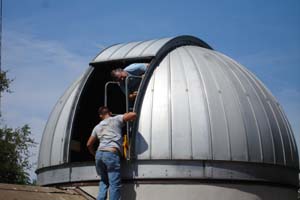 Dome under Construction
Picture of the 14 1/2 ft diameter Ash Dome shortly after installing the main shutter. The picture shows my nephew Craig outside preparing the bottom shutter rails. I'm at the top aligning main shutter rails. Temperature was about 103 F.